I am a huge fan of habit building. Good habits, that is!
It is something I actively work on with our boys, but the benefit is for my sake, too. As they are growing and developing in character, I am too. Modeling is the best teacher, and this intentional work of building good habits has revealed a lot of my own lack. But despite my own lack, we press on.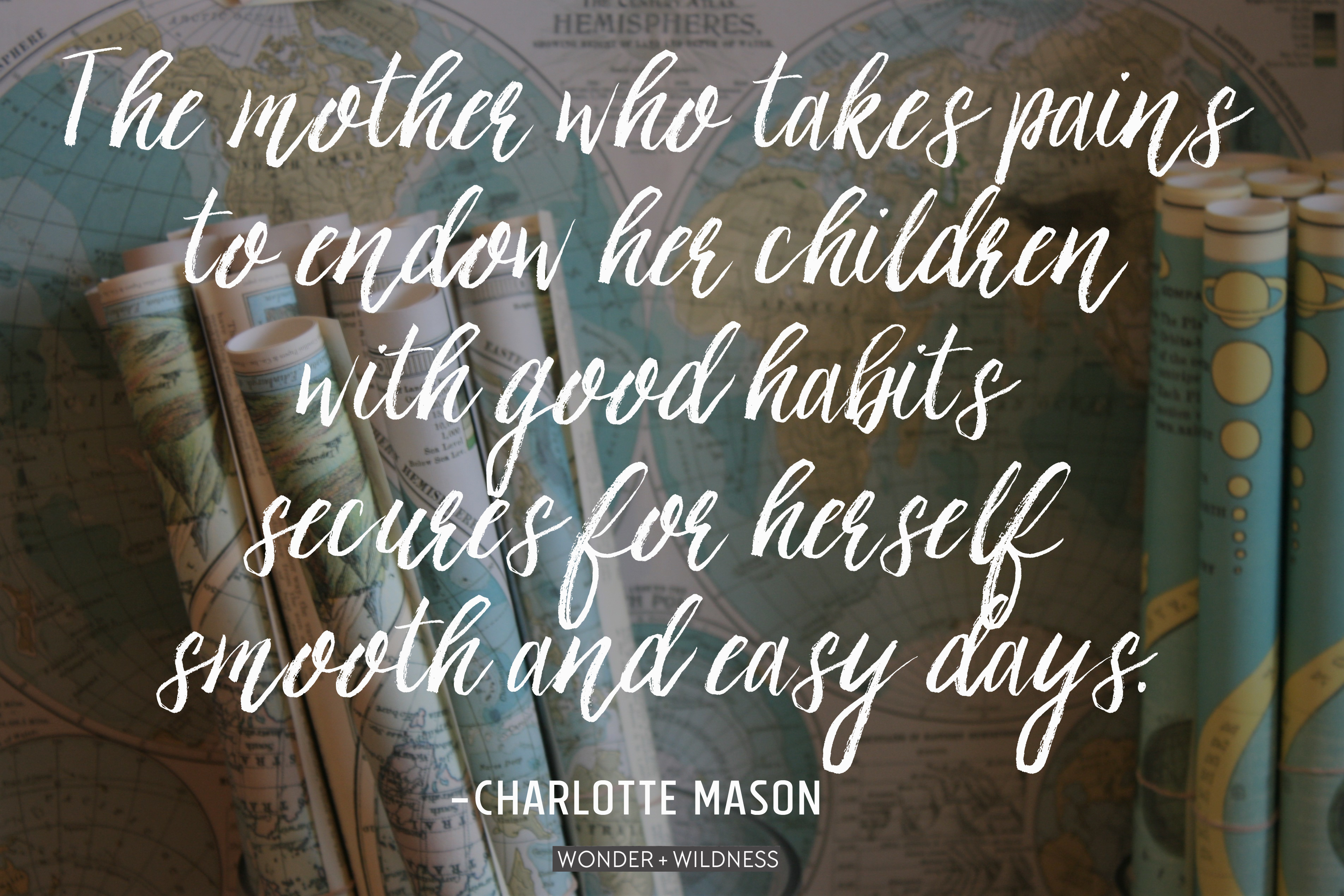 I have been inspired by the writings of Charlotte Mason and by mothers I know who have taken the time to intentionally build up their children's character. It is hard work, but it is an investment for the future and one I believe will be worthwhile.
Below you will find a few of our focused habits organized for your use – each row focuses on the same habit. Column one is a list of daily ideas to help focus on the habit. Column two has games and activities to encourage the habit. And column three has memory, copy work, and a hymn that corresponds with the habit.
A Charlotte Mason Companion and For the Children's Sake are two books that discuss habit building, among other excellent things pertaining to raising children and home education, and I appreciate them both.
Laying down the Rails is a very practical book that solely focuses on habit building. It lays out all of the habits that Charlotte Mason referenced in her writings and has quotes and a short story to illustrate the habit.
We have been focusing on habit building since 2012. How it plays out has varied through the seasons, but I have found that I must be intentional about it or it becomes nothing more than a good intention.
Using Laying down the Rails, and analyzing our own family dynamics and needs, I pick out our habits for the year all at once. This originally started out as a calendar year schedule, starting in January. There was a sense of new beginning and enthusiasm when approached this way. For practical reasons it turned into part of my school year planning, following a school year schedule. The first couple of years I did one habit per month. This worked well for us. It has since evolved into 6 habits per school year – one per each six week term. This also works well for us now. Bottom line – plan what will work within your own personality and family dynamics. But without a plan it is sure to fail.
When we started back in 2012 it was extremely involved. I had games, stories, object lessons and activities to go along with each habit. Every day we would do or discuss something related to the current habit. We had friends over for dinner whose job required diligence in that particular habit (ie. Nurses came over to emphasize the habit of Listening.) It was excellent for all of us. But that was also when we had the luxury of time and not so many other tasks to complete. It has since evolved into something a little less involved.
Quotes, Bible verses, and hymns are our primary focus point for our habits – all being utilized as copywork exercises and springboards for discussions. Games and activities still occur, but are much more organic in nature as opposed to me planning them out.
At the start of each month the boys fill out a blank calendar. This is both for calendar building skills and also where they are first introduced to their new habit. The new habit is written on the blank calendar page and they draw a picture illustrating this habit. This worked wonderfully and smoothly when we did one habit per month. It was an added complication when we switched to one habit per term, but we navigate through that.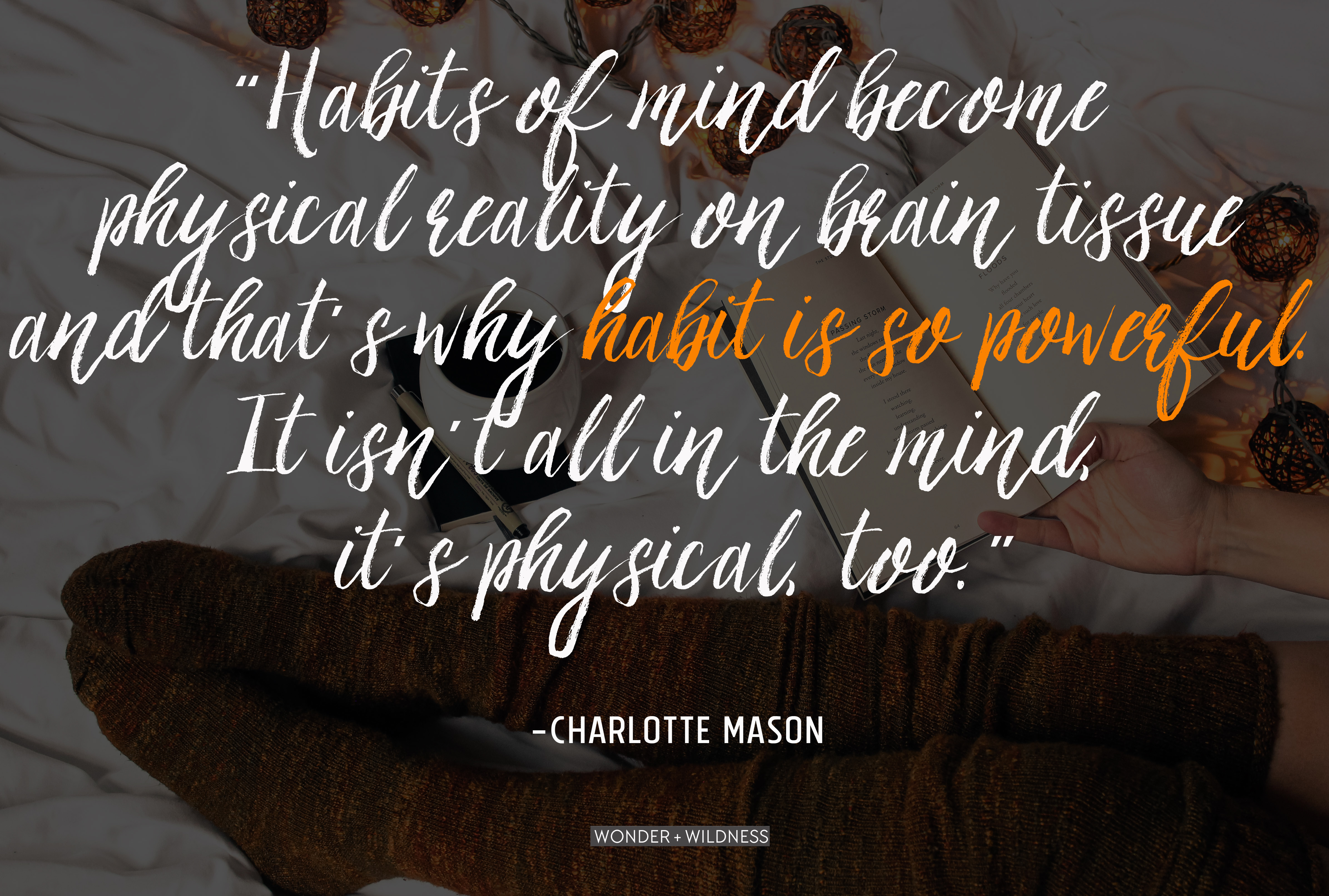 The Plan for Building Habits
Again, this is subject to tweaking – or revamping entirely – but the plan for intentionally working on each monthly habit is as follows, on a rotating 7 day cycle:
1. Talk about the habit, people we know with the habit, how it is a useful habit, discuss the weekly plan.
2. Do a fun activity related to the habit to grab their attention, reinforce the idea of the habit and keep them excited.
3. Devote a good deal of read aloud time to reading stories highlighting the habit.
4. Play a game – or do role playing – related to the habit.
5. Do something for someone else – find a way to make the habit practical and serviceable.
6. Read verses and/or Bible stories related to the habit.
7. Do an object lesson that highlights the habit.
PLEASE NOTE: Content is still being moved over from my previous blog